A contribution to knowledge in the field of diamond and gem optics, faceting, and design. It is a contribution to the World Gem Foundation's quarterly journal, 'Gemmology Today'. The whole journal issue is a free download.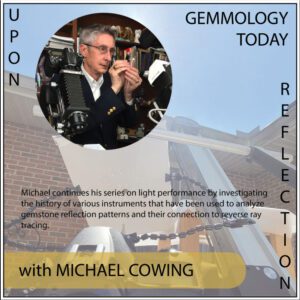 Geoff Dominy, World Gem Foundation: I feel very fortunate to know Michael Cowing. He has a brilliant mind. He is also passionate about the light performance of diamonds. In the March issue of Gemmology Today, he investigates the history of various instruments that have been used to analyze gemstone reflection patterns and their connection to reverse ray tracing.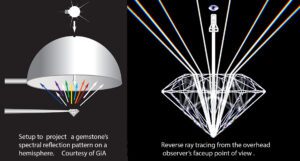 The greater utility of a gemstone's spectral reflection pattern and its significance is realized with the observation that its generation is the same process as reverse ray tracing from the eye of an observer viewing the gem face-up. In the process of reverse ray tracing, the same ray/beam light source is sent into the gem from the observer's eye, along the gem's axis and perpendicular to its table resulting in the same spectral pattern radiating from the gem onto a flat screen or hemisphere.
History and Utility of Gemstone Reflection Pattern Generation and Analysis