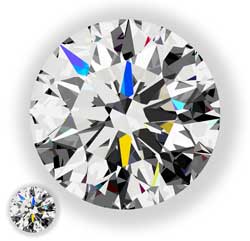 Photo realistic image of today's Ideal cut diamond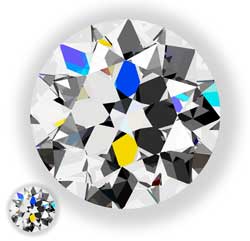 Photo realistic image of the Ideal with pavilion cut in the antique style of the early 20th century
Abstract: Over more than 150 years, those involved in the diamond industry have worked to establish the ideal angles and proportions to cut the facets of the standard round brilliant (srb) cut diamond in order to produce the 'Ideal' gem. This paper reviews milestones in that work and demonstrates that the solutions by major contributors to this endeavor have surprising commonalities. These common aspects are in accord with the research and investigation of the author as well as that of the GIA and AGS and the knowledge of diamond cutters and the teaching of diamond cutting institutions.
Click to download the pdf: Accordance in Round Brilliant Diamond Cutting – published in Journal of Gemmology